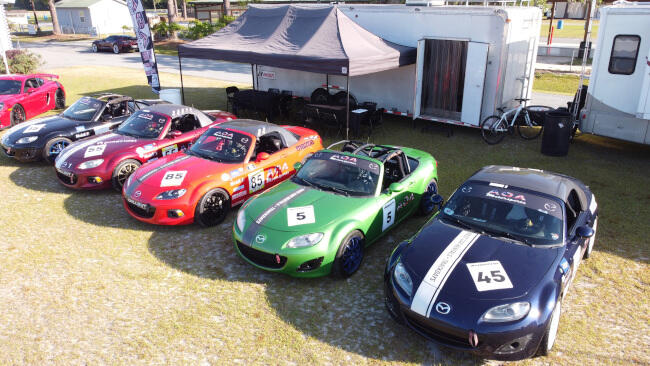 An all day event will include all the sessions for your group specified by the event organizer. Includes car transport to and from the track, all consumables including fuel, tires and track side support.Track insurance for the day. See package for details.  Snacks and refreshments for you and a guest. We will also provide a detailed breakdown per package. 
Yes, we will provide snacks and refreshments for a guest. However, if you choose to bring more than one guest, you will be responsible for keeping them hydrated and fed. Also, some events have an admission fee for spectators. 
Our rentals are MX5 Cup Cars with Penske adjustable shocks, full roll cages, Sparco seats and 6-point harnesses, Sparco  steering wheels, BF Goodrich RS2 tires, and Borla exhausts. Other tire options are available for an additional fee. Our provided ride along vehicles are a 2016 Chevy Corvette Z06 with a Z07 performance package and a 2018 Chevy Camaro ZL1 1LE. Please check out our options for more information.
When you book your first experience with us, you will receive $250 off. Throughout the season, certain events will be discounted, so make sure to check back with us. Corporate or group events will be priced per event, so please call or email for more details.
Please make sure you come to the track with a pair of long pants and a long sleeved t-shirt, preferably 100% cotton. You will also need a Snell 2010 racing helmet. If you do not have one please let us know in advance and we will provide one. Bringing sunscreen and a hat is also advised.
A typical track day has about 4 hours of track time . Sessions run all day, usually about 30 min per sessions . If you choose to book our ride along session, you will be on track for 3 laps.
During the ride along, the 3 included laps will usually consist of speeds in excess of 150 MPH, depending on the track and weather conditions. If you choose our rental option, depending on the track and lap traffic, as well as weather conditions and personal driving capabilities. 
You can select the HPDE (High performance Driver's Education)  INSURANCE product that best suits your needs. Here's a few for your convenience. 
Our events are rain or shine.